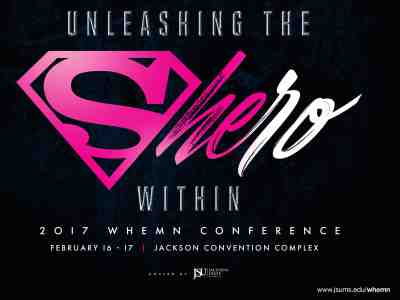 MC Law Faculty, Administration, and Staff recently participated in the Women in Higher Education Mississippi Network conference, held at the Jackson Convention Complex, February 16-17, 2017. Over 250 women from higher education, corporations, nonprofits and government participated.
The conference was themed, "Unleashing the Shero Within" and was focused on supporting women leaders and aspiring women leaders to be their most successful selves. With a take on superheroes/supersheroes, the conference encouraged women to, for example, develop their own creed, find their Batman/Robin sidekicks and supporters, and address their dreaded Kryptonite which was a take on the Superman/Superwoman series.
Interim Dean Patricia Bennett was a panelist on the session addressing, "How Will You Save the World (or at least save higher education in Mississippi)?--Recognizing Your Power to Inspire Change."
Professor Angela Mae Kupenda was the Luncheon Keynote Speaker. Professor Kupenda's talk was titled, "Recognizing and Overcoming Your Kryptonite: How to Become a Stronger Shero Through Self-Awareness."
Also participating were Assistant Dean of Diversity and Recruitment
Initiatives Tiffany Paige and Faculty Assistant Patricia Anderson.
MC Law alums also were on panels, including: former Lieutenant Governor of the State of Mississippi Amy Tuck who is currently Vice President for Campus Services at Mississippi State University; and, Onetta Starling Whitley, Deputy Attorney General for the Office of Attorney General in Mississippi.
MC Law was also busy at the conference recruiting from the conference participants for admission application to MC Law.