---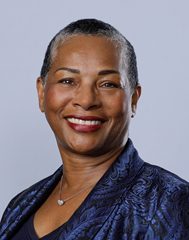 Regina Schofield, director of corporate engagement and education outreach for Battelle Education, plans to encourage MC School of Law graduates to "look out for those less fortunate than us."
One of the highest-ranking federal servants Mississippi College has ever produced, and one of the nation's leading proponents of STEM education will encourage nascent legal professionals to fulfill God's call to serve others less fortunate during the MC School of Law's Spring Commencement.
Regina Schofield, director of corporate engagement and education outreach for Battelle Education, the world's largest non-profit research and development organization, is scheduled to address the graduates at 10 a.m. on Friday, May 12, at First Baptist Church in Jackson. A reception will follow the ceremony.
A 1983 graduate of MC, Schofield has served in senior leadership roles in two of the largest federal agencies in the country: the U.S. Department of Justice and the U.S. Department of Health and Human Services. She has also had a leadership role with Casey Family Programs, the nation's largest operating foundation focused on reducing the need for foster care in the U.S., before joining Battelle in 2010. She now leads national education initiatives that further innovative efforts to strengthen minority and underserved populations' exposure to STEM roles.
"As an MC alum and as a former U.S. attorney general for the Office of Justice Programs at the U.S. Department of Justice, Regina Schofield is an ideal speaker for MC Law's Commencement," said John Anderson, interim dean and Henry Vaughan and Selby Watkins McRae Professor of Law at MC. "Hearing about her work as the nation's AMBER Alert coordinator and overseeing a wide range of federal programs, including Project Safe Childhood, the Prisoner Reentry Initiative, and the White House Initiative on Helping America's Youth will inspire our students."
Mississippi College President Blake Thompson, who once had a joint vice-presidential appointment with Battelle, and Schofield are longtime friends. The 2014 MC School of Business Alumna of the Year and recipient of MC's Order of the Golden Arrow Award spoke at Thompson's inauguration as MC's 20th president in 2019.
"Through her distinguished public and non-profit service, Regina has given to many people, and she has made Mississippi College proud," Thompson said. "I am thankful that, once again, she is willing to come and share her experience, wisdom, and faithfulness with our Law School graduates."
Born in Natchez and raised in Bude, Schofield learned about Mississippi College from a recruiter. During her senior year in high school, she visited the Clinton campus and was quickly sold on the Christian University.
"It seemed to check a lot of boxes for me," she said. "The student life was vibrant, and even today, I feel like I can just start speaking with classmates after 40 years.
"I always felt I could be myself at MC. I've always been opinionated, but my teachers encouraged me to speak up in class and share my views."
One School of Business professor, in particular, encouraged her to make the most of her educational opportunities. Lloyd "Bo" Roberts, onetime dean and former interim president of MC, called Schofield one of his favorite students of all time.
"She's a wonderful person with a delightful personality," Roberts said. "She became a good student. We grew to be great friends while she was here, and we've remained in contact.
"She has utilized the business administration degree she received from MC and has been very successful in her work in the Washington, D.C., area. She has integrity. She came from a family with high expectations, and she met those expectations."
Schofield credits Roberts for helping her excel in business – and in life.
"What I learned from Dr. Bo Roberts was that I could do anything I wanted to do," she said. "As a teacher, he gave me the confidence to continue to be as active in the community as I was in college. Throughout my tenure in any job, at my church, on numerous boards, community projects, and even with politics, I have considered it an obligation to do my best, share what I learn, encourage others, and hope that people see me as a mentor, coach, and perhaps role model."
After earning her dual Bachelor of Art and Bachelor of Science degrees at MC, Schofield worked through graduate school, leaning on the instruction she received at MC – and the eternal verities of her faith – to obtain her Master of Business Administration from Jackson State University.
"My first pastor at New Hope Baptist Church in Jackson taught me that we have to be accountable for the talents that God has given us," she said. "My father was very active in the community, and my mother was very active in the church. So, you could say that I've learned never to sit still!
"I had a full-time job, so I attended classes in the evening and occasionally on Saturdays. There were students attending graduate school who didn't have to work, but I knew that most were in my shoes, so we shared notes, talked about the classwork, and created teams to develop and finish projects. These were all behaviors that I learned at MC."
Her hard work fueled her ascension in Washington, D.C. circles, where she served as manager of government relations for the U.S. Postal Service, manager of environmental issues for the International Council of Shopping Centers, special assistant and White House liaison to the U.S. Department of Education, and certified mediator for the Virginia Supreme Court, among other prominent positions.
U.S. Secretary of Health and Human Services Tommy Thompson appointed her as his department's director of intergovernmental affairs. Schofield worked with Native American communities to strengthen their access to DHHS resources. Acting as the DHHS secretary's senior advisor on all state, local, and tribal issues regarding HHS policies and programs, she became the primary personnel link between DHHS and the White House, which earned her the National Youth Service Award from the Native American National Advisory Council for Boys and Girls Clubs of America.
President George W. Bush nominated her to serve as assistant attorney general for the Office of Justice Programs at the U.S. Department of Justice. The U.S. Senate confirmed her appointment, and Schofield served as the nation's AMBER Alert Coordinator, instituting wireless AMBER Alerts in Native American communities, and overseeing a range of federal programs, including Project Safe Childhood, the Prisoner Reentry Initiative, and the White House Initiative on Helping America's Youth, among many others.
She left the Justice Department to become managing director for public policy for Casey Family Programs, where her work developing national programs and making substantive improvements to the well-being of children, families, and the communities in which they lived led to the passage of the most significant child welfare legislation enacted by the U.S. Congress in more than a decade and earned her the Jim Casey Leadership Award.
Her remarkable devotion to community service and civic causes has placed Schofield on the Board of Directors for the Cal Ripken, Sr. Foundation, the Children's Science Center, the Conrad Foundation, the National Center for Missing and Exploited Children, the National Center for the Prevention of Community Violence, the Maryland Business Roundtable, and the Research Advisory Committee of the National Collaborative on Gun Violence Research. Marquis Who's Who, the standard for reliable and comprehensive biographical data, presented her with the Albert Nelson Marquis Lifetime Achievement Award.
Throughout her remarkable career, Schofield has kept in touch with her alma mater, a point she plans to emphasize in her MC Law Commencement address.
"We all know the meaning of 'alma mater,' but as I considered the honor I received from the School of Business in 2014, I also realized that MC was truly a place that nurtured me," she said. "To be nurtured means to have been encouraged and supported. I was well cared for at MC – emotionally, intellectually, and spiritually. Every parent wants that for their children when they leave the nest.
"I'm thrilled and always eager to be around people who genuinely wish you well. I am truly honored to be allowed to come back."
Although she hasn't finalized the message she plans to share with the MC Law Class of 2023, like her career, she has a solid foundation to build it on.
"The speech will be based on quotes from people who believed that God calls us to always look out for those less fortunate than us," she said. "I intend to encourage them to be successful and always do the right thing. I believe that too often, we might feel a conflict between those two things, but there is always room to do the right thing – especially when no one is looking.
"I love MC and believe it's the right size for students to thrive and be nurtured. There's a robust academic environment, and new programs are being added. Under Dr. Thompson's leadership, the main campus and the MC School of Law will continue to grow, be competitive, strengthen partnerships in the surrounding communities, and most of all, allow students to grow in their faith and use their talents."