---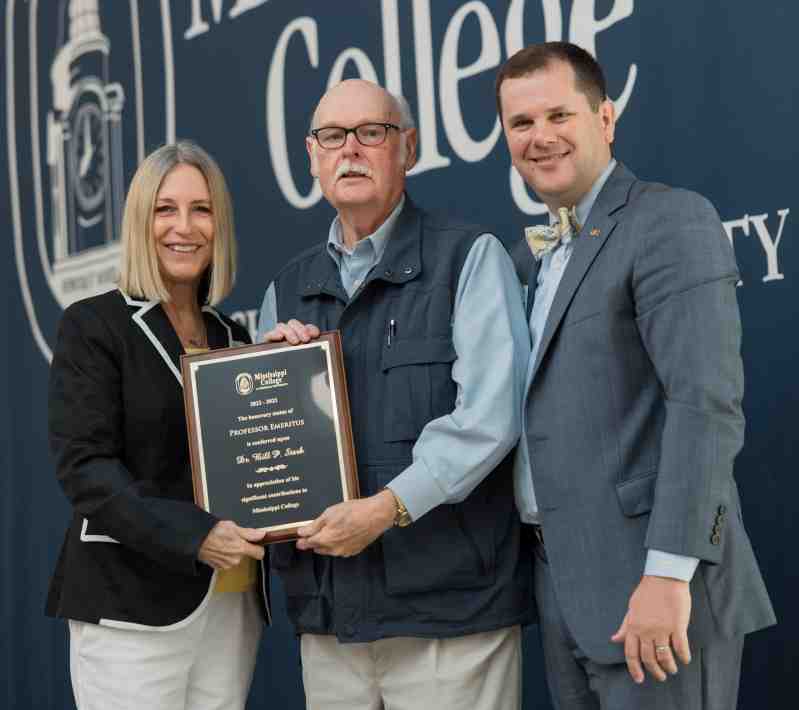 Blake Thompson, right, Mississippi College president, and Debbie Norris, MC associate provost and Graduate School dean, present a plaque signifying emeritus status to Bill Stark, center, W.O. Sadler Professor of Biology, during the Faculty and Staff Convocation Luncheon Aug. 19 in Anderson Hall. Stark joined three other emeritus recipients - Tommy Leavelle, J. Larry Lee, and Charlotte McMath - who were recognized for their distinguished record of scholarship, teaching, research, and service.to the University.
Four of the most accomplished faculty in the School of Science and Mathematics at Mississippi College and the MC School of Law received emeritus status from the institution during the Faculty and Staff Convocation Luncheon Aug. 19 in Anderson Hall in the B.C. Rogers Student Center.
Blake Thompson, MC president, introduced the emeritus recipients: Tommy Leavelle, a mathematics professor at MC for 29 years; J. Larry Lee, former interim dean of the MC School of Law; Charlotte McMath, an MC alumna and mathematics professor known for her commitment to MC Athletics; and Bill Stark, W.O. Sadler Professor of Biology.
Emeritus status is bestowed upon retired Mississippi College faculty or staff members who have made significant contributions to the Christian University. It is given to showcase a long and distinguished record of scholarship, teaching, research, and service.
"The title of Emeritus is presented to retired faculty as an honor," said Debbie Norris, MC associate provost and Graduate School dean, who presented plaques to each recipient. "In all four cases, the honor is well deserved."
For more than 36 years, Leavelle taught mathematics courses at all levels. He joined the MC faculty in 1992, and served the University with distinction for 29 years. An outstanding professor and mentor, he was named to several committees at MC, was selected Faculty Council president, and enjoyed numerous terms as the MC London Professor.
"Tommy has served MC well and in many capacities," Norris said. "He has hosted the High School Academic Competition, accompanied many MC students to travel abroad, reviewed our accreditation materials, and taught math classes in extraordinary ways.
"Always willing to do what was asked, Tommy accompanied me to Washington, D.C., to our first assessment conference. You could say he was instrumental in our first assessment work."
A member of the SACS Steering Committee and an internal reader for the Five-Year Report, Leavelle had a clear passion for students. He presented mock classes for prospective students at Preview Days, served as a moderator for the MC Academic Tournament and the Science and Math Tournament, was a liaison in Madison-Ridgeland Academy's dual-enrollment program, and served as an advisor for all international mathematics majors. He was even known to invite students to his house for study-session dinners.
Leavelle would step out of his role as a mathematics professor to perform in the MC Tribal Players' performance of Shakespeare's "A Midsummer Night's Dream," which allowed him to interact with students he was unlikely to encounter in a mathematics classroom.
An active member of the National Council of Teachers of Mathematics, the Mathematical Association of America, and several regional professional organizations, Leavelle also served as an AP statistics reader and received multiple Eisenhower grants to help in-service teachers. Well-loved in the School of Science and Mathematics, he gained a reputation for being the professor "who knew a lot about everything."
A member of the Mississippi College School of Law faculty for more than four decades, J. Larry Lee served the University with distinction for 42 years. He was known for tackling any role the school required of him.
"Larry is a respected law faculty member, but he also served the MC Law School as its Interim Dean when we needed him to do that," Norris said. "I'll always appreciate his willingness to serve."
A native of Jackson, Lee obtained his undergraduate degree from Mississippi College, his law degree from the University of Mississippi School of Law, and his Master of Laws in taxation from New York University.
A partner in the Jackson law firm of Dossett, Magruder and Montgomery, he served as an adjunct professor at MC Law for three years before joining the faculty full-time in 1979. He worked steadily to help the MC Law School secure provisional and full American Bar Association and Association of American Law Schools membership and accreditation, taught tax courses, and, at various times, chaired every law school committee.
He served as director of the Business and Tax Law Center and mentored students and graduates in the pursuit of graduate degrees in taxation and entering a tax or business practice. Budget advisor for Jim Rosenblatt, MC Law dean, Lee served on a number of college and joint college-and-law school committees.
As interim dean of MC Law, he worked diligently to maintain accreditation for the school, and played an essential role in planning and implementing significant improvements that allowed it to remain in compliance with ABA and AALS standards.
A Fellow of the Mississippi Bar Foundation, Lee was a four-time selection as MC Law's Outstanding Professor. He received the Faculty Award for Service and Contribution to the Legal Profession, and the Faculty Collegiality Award.
A tireless advocate of Mississippi College athletic programs and a valued instructor in the Department of Mathematics, Charlotte McMath has served the University with distinction for 35 years.
"Charlotte is an excellent teacher," Norris said. "I have firsthand knowledge of this as I took Introduction to Programming from her. She made it seem easy to me.
"But Charlotte is also a staunch supporter of our athletic programs and has given tirelessly of her time and talents to these students."
After obtaining her undergraduate degree and her master's degree in education from MC, McMath embarked upon a career in education that has spanned 42 years. A secondary teacher, she joined the MC faculty, was named to the Faculty Council, and served a series of terms as chief judicial officer.
Supervisor for the Mathematics Tutoring Center, McMath sponsored the Mathematics Club at MC. Through the years, she provided generous support to her colleagues in the School of Science and Mathematics, managing many hospitality activities and serving as a valuable resource in the Department of Mathematics.
A major supporter of the Choctaw basketball and golf programs and a proud Blue-and-Gold Sponsor, she served as a recruiter and coordinator for many social events benefiting these programs. She was a hostess of the Region 23 Community College Basketball Tournament's hospitality room for more than 30 years.
McMath and her husband, John, are two-time recipients of the Distinguished Service Award from the Mississippi College National "M" Club. The newly designed golf facility at MC was named the John and Charlotte McMath Golf Center in honor of their lifetime commitment to the University and their impact on the MC community.
W.O. Sadler Professor of Biology, Bill Stark has taught a variety of field courses in biology. He joined the MC faculty in 1976, and served the University with distinction for 45 years.
"Bill is truly a scholar, having published numerous articles and scholarly works," Norris said. "Bill included his students in this research and has helped them launch careers in biological research.
"My first experience of getting to know Bill was when we were Derby Day judges together. Bill loves the students and showed that throughout his career – which was a very rich one."
Stark obtained his undergraduate degree from Southeastern Oklahoma State University, his master's degree from the University of North Texas, and his Ph.D. in biology from the University of Utah. He enlisted in the U.S. Army and served a tour of duty with an artillery battalion.
At MC, Stark taught ecology, entomology, aquatic entomology, ichthyology, and systematic zoology, and assisted with the beginning sequence of biology for majors and a course in beginning biology for non-majors. He maintained an active research program that provided opportunities for undergraduate and graduate students to complete and submit journal articles for publication. Many of the submissions grew out of the Honors Program, and several studies involved scanning electron microscopy of eggs and body parts of insects using equipment purchased by the Howard Hughes Program.
During the course of his career at MC, Stark named more than 400 new species of insects. He authored or co-authored more than 240 publications, many of them with his students.
A two-time recipient of the Mississippi College Distinguished Professor of the Year Award, Stark was twice chosen for the Higher Education Appreciation Day, Working for Academic Excellence Outstanding Faculty Honoree from MC. He also received the Distinguished Lecturer of the Year Award and the International Association of Plecopterologists Lifetime Achievement Award.