---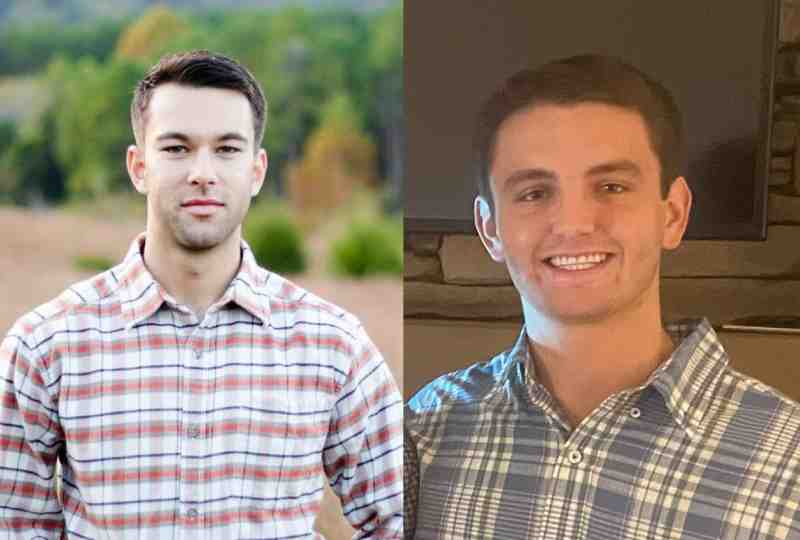 Mississippi College School of Law orientation helps students like Joel Meek, left, and Max Rhodes become better prepared for their legal training.
Max Rhodes has always been interested in the law and how it works, but one class at Mississippi College convinced him to turn his fascination into a vocation.
The Collierville, Tennessee, resident's favorite course at Mississippi College was a business law and ethics class taught by Prof. Bobby Perkins.
"I had never been so fascinated by a class," Rhodes said. "It covered a lot of concepts in the law – we talked about civil procedures and how a courtroom worked. A lot of students may have been bored, but I loved it."
The class inspired him to take the Law School Admission Test, which measures an individual's aptitude for the first year of legal training. After scoring well and earning his B.S. in Business Administration last May, Rhodes was presented with plenty of continuing education and career opportunities. Yet he considered only one choice: applying to the Mississippi College School of Law.
"I have received so much support from many people who have encouraged me to challenge myself and look at every option," Rhodes said. "I'm great friends with some students who are a year above me at MC Law, and one of my best friends gave me a personal tour of the law school.
"The culture was a big part of my decision. MC Law is similar to the main Mississippi College campus: they both have a family-friendly atmosphere, and everybody wants to meet each other. Yet MC Law is more professional, as you'd expect from a law school."
Joel Meek had long considered a career as an attorney. An MC professor even pulled the finance major aside one day to suggest he would do quite well in law school. But the Columbus resident's path to MC Law wasn't so direct.
After obtaining his B.S. in finance in December 2017, Meek served four-and-a-half years in the U.S. Army. Yet he never forgot the encouraging words uttered to him at MC.
"I considered getting my law degree through the Army and becoming a JAG (Judge Advocate General) officer," said Meek, who was honorably discharged at the rank of captain. "My wife and I thought and prayed about it, but we decided together that the Army wasn't the best choice for our family at this time.
"The legal profession could allow me to provide for my family while serving others. With my military background and a law degree, there would be a vast number of things I could do."
Meek enrolled in the MC School of Law and, like Rhodes, is considered an exceptional candidate to obtain his degree.
"Both of these students are strong believers of Jesus and they were very involved in Civitan Service Club and in other aspects of MC's main campus," said Kristian Gautier, admissions counselor for the MC School of Law. "I know they will continue their Christian walk here and strong involvement at the law school."
The students took their first steps toward a law degree when they participated in first-year orientation. The four-day event, Aug. 9-12, included informative remarks from some of the state's top names in the legal profession, breakout sessions with judges and attorneys, and a legal analysis and communication workshop – all designed to set incoming law students on a path to success during their three-year journey to a Juris doctor.
The first day of orientation occurred in a familiar location – Mississippi College's main campus in Clinton. The theme for the day, "Academic Standards and Professional Expectations," helped set the tone for academic success at the MC School of Law.
Dr. Blake Thompson, MC president, and Prof. John Anderson, interim dean of MC Law, welcomed the new students, and Jonathan F. Will, associate dean for research and faculty development, provided an introduction to the study of law. Prof. Deborah Challener, associate dean for academic affairs, gave a presentation on academic matters related to the study of law, and Anderson introduced the MC School of Law faculty.
Attendees took part in the James O. Dukes Law School Professionalism Program and Oath. Named in honor of its founder, the late James O. Dukes of Gulfport, a former Mississippi Bar Association president, the annual program is sponsored by the state bar. Blake Teller, MBA president, gave remarks, and Justice Michael K. Randolph, chief justice of the Mississippi Supreme Court, administered the professionalism oath to the students.
Local judges and attorneys took part in breakout group sessions with the students, who listened intently as Kim D. Phifer, director of student services, discussed student professionalism and honor code issues, and Ellen Robb, director of career services, explained the services available in her department.
The first day of orientation on MC's main campus proved to be a sentimental journey for Meek.
"I hadn't been to Clinton in over four years," he said. "It was nostalgic for me to see the campus and think of all the memories we made there. I managed to find one or two people I had known as an undergraduate and talked with them a little, which was nice.
"The law school is in the heart of the capital city, and there's a lot more hustle and bustle, with the Supreme Court and capitol building nearby. Clinton has more of a small-town feel, and even though we might not necessarily spend a lot of time on the main campus while in law school, it was great to give law students an opportunity to see the rest of MC."
The rest of the orientation took place at the MC School of Law in Jackson. In accordance with the second day's theme, "Finding Your Fit at MC Law," the students took part in a Law School Organizations Fair, learned about the Mississippi Board of Bar Admissions, and discovered how to find their way around the MC Law campus in a session hosted by Ken Cook, information technology manager, Thomas Walter, reference and computer services librarian, and Randy Chatham, security officer. The day's events included a financial aid meeting and a diversity session.
The final two days of orientation consisted of an intensive "Setting Yourself Up for Success in Law School – Legal Analysis and Communication" workshop.
While Rhodes and Meek got a head-start on their studies – each took a course at the law school this summer – they said the first-year orientation sessions provided valuable insight into their upcoming courses of study.
"Having members from the board of the Mississippi Bar Association discuss some professionalism problems we had been given, or to sit down in small group sessions with practicing attorneys to hear their experiences was a great opportunity," Meek said. "Getting to listen to a panel of five attorneys and judges from across the state – all of whom are MC Law alumni – share their wisdom with us was amazing.
"The encouragement we have received from everyone during orientation has been tremendous."
Rhodes said the sessions covered everything incoming law students need to know, both inside and outside of the classroom.
"They've done a great job of preparing us," he said. "For example, for those of us with student loans, they talked about ways to save money and how to do a better job of budgeting so we won't be in debt five years down the road.
"It's been very informative, they've injected a lot of energy and enthusiasm into the students, and it's been a great process."
Both students said orientation helped them take on the role of full-time student by the time law school classes began Aug. 15.
"After orientation, I feel like I am very prepared for law school," Rhodes said, "but I'm not taking anything for granted. I'll need to do a lot of reading before classes start."