---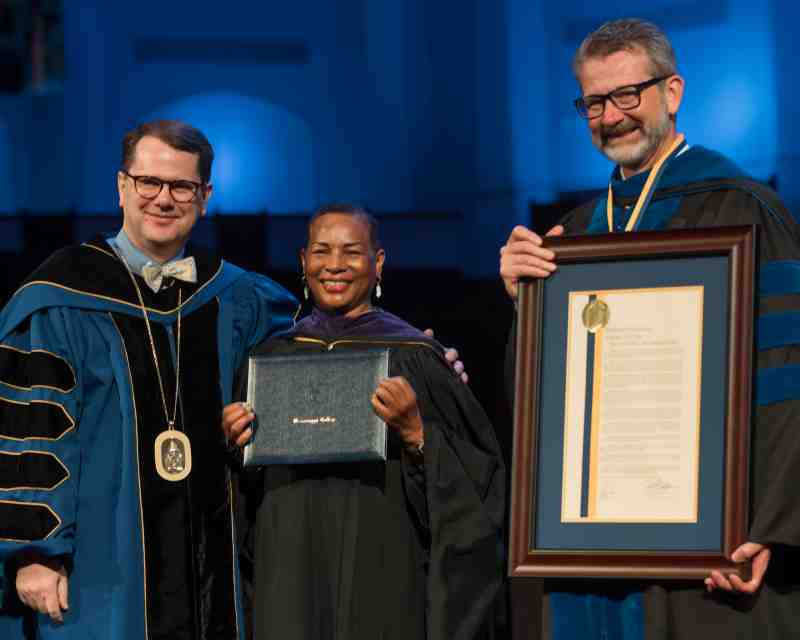 Dr. Regina Schofield, director of corporate engagement and education outreach for Battelle Education and an MC graduate, receives her honorary juris doctor from Mississippi College President Blake Thompson, left, and MC Law Interim Dean John Anderson.
Dr. Regina Schofield's dedication to others and commitment to community service have placed the Mississippi College graduate in a position of influence among federal policy makers.
As director of corporate engagement and education outreach for Battelle Education, she leads national initiatives that strengthen minority and underserved populations' exposure to STEM roles.
As former managing director of public policy for Casey Family Programs, she developed national initiatives that improved the well-being of children, families, and communities, and contributed to the passage of the most significant child welfare legislation enacted by the U.S. Congress.
As assistant attorney general for the Office of Justice Programs at the U.S. Department of Justice under President George W. Bush, she served as the nation's AMBER Alert coordinator and oversaw a range of federal programs, including Project Safe Childhood, the Prisoner Reentry Initiative, and the White House Initiative on Helping America's Youth.
And as director of intergovernmental affairs under U.S. Secretary of Health and Human Services Tommy Thompson, she worked with Native American communities to strengthen their access to DHHS resources and became the primary personnel link between the department and the White House.
During her career, she has served on the Board of Directors for the Cal Ripken Sr. Foundation, the Children's Science Center, the National Center for Missing and Exploited Children, and the National Center for the Prevention of Community Violence. She has received the Albert Nelson Marquis Lifetime Achievement Award, the Jim Casey Leadership Award, and the National Youth Service Award from the Native American National Advisory Council for Boys and Girls Clubs of America.
The Mississippi College School of Law's 2023 Commencement speaker can add another accomplishment to her impressive list of public service credentials: juris doctor.
Schofield received the honorary degree May 12, shortly after delivering a stirring speech that left the audience of MC Law faculty, staff, students, and family members at First Baptist Church in Jackson inspired to follow her example.
"Regina Schofield embodies everything that Mississippi College and MC Law stand for: faith, integrity, kindness, grit, leadership, innovation, and professionalism," said Dr. John Anderson, MC Law interim dean. "For these reasons, (MC President) Dr. (Blake) Thompson and I could not have been more pleased to grant her the honorary juris doctor degree.
"We could not find a more deserving recipient of this honor."
During her presentation to the 101 newly minted law school graduates, Schofield recounted her childhood in tiny Bude, Mississippi, and her father's efforts to desegregate the local school system. She talked of graduating from Mississippi College, and a professor's challenge to continue serving the community as she had as an undergraduate. And she spoke of becoming active in her home church and volunteering on political campaigns, which led to her involvement in state politics.
She described earning her master's degree at Mississippi State University and leaving the state for a highly coveted position, but becoming miserable upon discovering the dream job offered no benefits to the community at large. That experience motivated her to find a place in national politics, where she thrived, serving under two U.S. presidents and leading an active community-engaged life.
"It was my last political position that brought me into proximity to members of law enforcement," she said. "I fully support the rule of law, and I believe the best of law enforcement happens when members are positively engaged with the citizens of the communities in which they reside.
"I have thrived at being an active member of the global community."
She shared three "pillars" that have guided her career: faith ("Your faith in God will encircle you with love for Him, your neighbors, and yourself," she said); time ("Lead with your heart, challenge yourselves to do something broader than your own family, and extend yourself to your community,"); and worth ("Your life will not be the sum of collected objects, but in the creative use of your time and having people in your life, know that your word is your bond").
Those in attendance raved about Schofield's presentation.
"Multiple graduates and family members came up to me at the reception and said that of all of the commencement addresses they have heard over the years, Schofield's was the most inspiring," Anderson said. "One parent even said it brought her to tears."
After her speech, Thompson surprised Schofield by presenting her with the violet hood, emblematic of her new degree, and read from a proclamation of commendation signed by him and Anderson.
Following the ceremony, Anderson continued to receive emails praising te talk by Schofield, the 2014 MC School of Business Alumna of the Year and 2020 Order of the Golden Arrow Award recipient.
"The graduation was outstanding – one of the best commencement speakers ever," wrote one MC Law faculty member. "Dr. Schofield was a truly inspiring speaker! One of the best I have heard in my 22 years of MC Law graduations."