---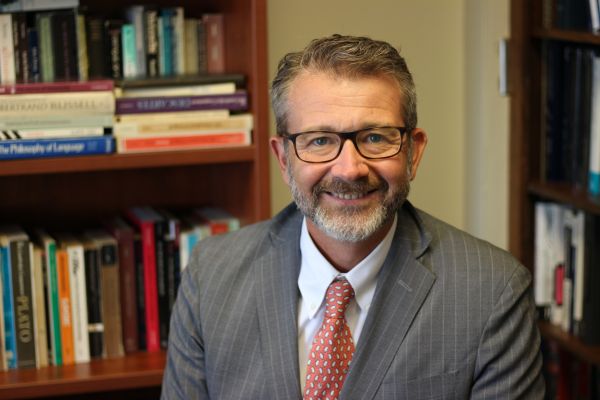 Professor John Anderson
MC Law is pleased to announce that Dr. John P. Anderson, J. Will Young Professor of Law at MC, has agreed to serve as interim dean beginning July 1. He will succeed Dr. Patricia Bennett, a member of the MC Law faculty since 1989 and dean of MC Law since 2017. In a recent announcement to the MC community, Provost and Executive Vice President Dr. Keith Elder shared the following:
Dr. Anderson is a highly regarded attorney with expertise in securities enforcement, white-collar crime, and the intersections of law and philosophy. He has taught Business Associations, Contracts, Constitutional Law, Evidence, International Human Rights, and White-Collar Crime, among other courses. He has received numerous teaching awards and was named Law School Professor of the Year for 2021-22 and MC Distinguished Professor of the Year for 2018-19.
After receiving his B.A. in philosophy with honors and high distinction in general scholarship from the University of California at Berkeley in 1994, he earned his M.A. in philosophy in 1998 and his Ph.D. in philosophy in 2000 at the University of Virginia, Charlottesville. He earned his J.D. in 2003 at the University of Virginia School of Law.
Dr. Anderson began his legal career in 2003 as a litigation associate for Sutherland Asbill & Brennan LLP in Washington, D.C., before moving across town in 2007 to join Wilmer Cutler Pickering Hale & Dorr LLP as a securities enforcement and litigation senior associate. He made his way to the MC School of Law three years later. The author of the book "Insider Trading: Law Ethics and Reform," published by Cambridge University Press, and co-author of the book "White Collar Crime: Cases, Materials, and Problems," published by Carolina Academic Press, John has also written more than 20 articles published in leading peer-reviewed and law journals.
A frequent contributor to the Columbia Law School's "CLS Blue Sky Blog," his recent articles address the law and ethics of insider trading, the problem of how to build a just and enduring Constitutional order in the face of increasing religious and cultural pluralism, and the theoretical underpinnings of international human rights. He is coeditor and a regular contributor to the "Business Law Profs Blog." Selected Law School Professor of the Year at MC on four occasions, John has received the Mississippi Defense Lawyers Association Faculty Award and is a six-time recipient of the 1L Professor of the Year Award. He has participated in numerous panel discussions and has given several presentations representing MC Law at national and international conferences and seminars.
Chair of the Faculty Appointments Committee, John has served on the Academic Programs Committee, the Promotion and Tenure Committee, the Scholarship Committee, and the Dean's Advisory Board on Minority Affairs. He has served as a faculty representative for the Black Law Students Association and as director of Study Abroad Programs to Mexico, Cuba, and France. He helped start the Student Diversity Lunch/Discussion Group at MC Law, has judged multiple Moot Court competitions, and actively advises students on law review notes.
A volunteer for several organizations and an organizer for Mission Mississippi - Racial Reconciliation, John serves as vice chair of the New Scholars Committee for the Southeastern Association of Law Schools. He is a member of the Flora Methodist Church, where he teaches Sunday school.