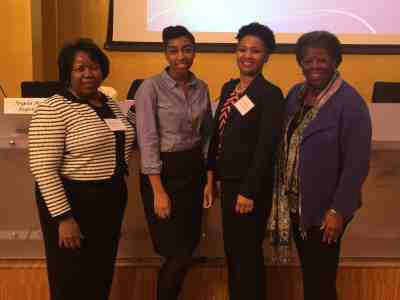 MC Law Professor Angela Mae Kupenda recently co-presented a working paper on a panel, together with the National Science Foundation (NSF) funded JSU ADVANCE team, at the University of Baltimore School of Law 9th Annual Feminist Legal Theory Conference Applied Feminism Today. Their panel was titled: Applying Feminist Legal Theory for Social Change.
The co-presenters' research received support from a NSF Institutional Transformation Grant awarded to Jackson State University (JSU) to assist the transformation of the institution as to issues of gender, JSU ADVANCE. Their working paper is titled: "Transforming Climates for the Academic Woman of Color: The Limitations of Race-Neutral Career-Life Balance Policies in Higher Education," and was presented by Dr. Loretta A. Moore (JSU Vice President for Research and Federal Relations, Professor of Computer Science, and JSU ADVANCE Principal Investigator), Dr. Deidre Wheaton (JSU Assistant Professor of Interdisciplinary Studies, and JSU ADVANCE Senior Personnel), and MC Law Professor Angela Mae Kupenda (a frequent collaborator with JSU ADVANCE). Other co-authors are Dr. Michelle D. Deardorff (Professor and Department Head of Political Science, Public Administration, and Nonprofit Management, University of Tennessee at Chattanooga), and Dr. Evelyn J. Leggette (JSU Provost and Senior Vice President for Academic and Student Affairs).
Their paper examines the need for both institutional support and support in social structures for the academic woman of color, particularly at Historically Black Colleges and Universities. Their working paper's feminist legal theory framework rests on anti-essentialist theory.
This continues their work in considering the unique plight of women of color, and especially Black academic women in higher education, and Prof. Kupenda's focus on legal education more particularly.