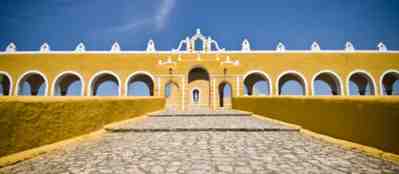 December 26, 2022 – January 7, 2023
ABOUT THE PROGRAM
Mississippi College School of Law will host the popular Merida program during winter
intersession this year. The program is approximately two weeks long and students will earn
three credit hours in International Human Rights. Merida is the capital city of the Yucatan and an excellent base to explore the Mexican culture through Mayan ruin sites and ecological
wonders. The program will include excursions relevant to the course material.
WHO CAN PARTICIPATE
The program is open to full-time and part-time J.D. and LL.M students at ABA-accredited law schools. Participating students must currently be in good standing and have attended law school for at least one year. Therefore, the program is only available to current second- and third-year students J.D. students or LL.M. students.
For MC Law students, see MC Law policies regarding academic standing and eligibility to participate in intersession courses.
Visiting students must have written approval from the Dean of their home school to be eligible to participate and are advised to consult with their home school's Dean or Registrar prior to application to ensure acceptance of credit for the program. Transcript request information will be provided to visiting students upon completion of the program. Visiting students are responsible for submitting their own transcript requests following the program. Acceptance of any credit or grade for any course taken in the program is subject to determination by the home institution.
The course offered during the program is International Human Rights taught by Professor Phillip McIntosh.
Course Description LW 701 International Human Rights (3 semester hours)
This is an introductory survey course on international human rights law and theory. The course will begin by analyzing the concept of human rights and its philosophical underpinnings. It will then look at the historical antecedents and current sources of international human rights law. The course will also consider global, regional, and national organizations and mechanisms for the protection of human rights. Students may be required to write and present a paper. There will be a final exam in lieu of a paper. The exam will be a take-home exam, due date to be determined after return from Mexico.
Cancellation Policy
MC Law does not anticipate that the program will be canceled. However, in the unfortunate
event that cancellation occurs, MC Law will refund all tuition and registration fees within 30 days of cancellation. We will also refund any portion of the administrative fee that has not been irrevocably committed to a third party.
If there are any changes to significant aspects of the program (classes offered, teachers, dates,
etc.), after a student has signed up to the program, these will be communicated promptly, and students will be permitted to withdraw from the program and obtain a full refund of monies paid to MC Law for the program with the exception of those funds that have been irrevocably committed to a third party.
Access for Persons with Disabilities
Merida is a developed modern city and is generally accessible to individuals with disabilities. MC Law will ensure that students with disabilities of any kind who participate in the program are provided with special accommodations to the extent possible. However, students requiring special accommodations should contact the program coordinator prior to applying.
ESTIMATED EXPENSES
The following is an estimate of student expenses for the program. This includes both payments to MC Law and anticipated out-of-pocket expenses. Please note that these are only estimates and are subject to change.
MC Law Student tuition (at student's tuition rate) for 3 credit hours
Visiting Student Tuition: $3,654
Lodging/Admin Fees: ~$1700 (includes excursions)
Miscellaneous/personal expenses: $300-$400
Round Trip Travel to Merida: ~$1100
Trip health insurance: $100 – $200
GETTING TO AND FROM MERIDA
Students are advised to arrange flights to the Merida airport.
The U.S. Department of State recommends (but does not require) U.S. citizens to register trips abroad with the Department of State. MC Law will register all program participants with the Department of State prior to the program. U.S. Department of State consular information sheets for Mexico are available on the Department of State's Website (www.travel.state.gov). Please check it periodically for updates. In the unlikely event that Mexico is declared an "area of instability" by the U.S. government before or during the trip, or if the U.S. issues a "travel warning," students will be permitted to withdraw from the program and will receive a full refund of monies paid to MC Law that have not been irrevocably committed to a third party. The U.S. Department of the State recommends
(but does not require) U.S. citizens to register trips with them. MC Law will register all
participants with the State Department prior to the program.
For students who are considering international travel and who do not have a current passport or whose passport may need to be renewed, it is important to allow a minimum of six weeks to process your passport application or passport renewal application. Demand for passport renewals and applications is currently very high so that early application is very important.
Travel and health insurance is strongly recommended for students participating in the Mexico program. There are various providers with the cost, depending on the coverage purchased, ranging from approximately $100 to $200. Travel Guard http://www.travelguard.com) is one such provider, as is iNext (www.inext.com). Your policy should, at a minimum, cover medical expenses, travel interruption/cancellation and repatriation.
Health information and recommendations regarding vaccines and medicines for travel to Mexico can be found at https://wwwnc.cdc.gov/travel/destinations/traveler/none/mexico.
QUESTIONS AND APPLICATION
Please direct questions to:

Professor Phillip McIntosh
Phone: 601.925.7145
Email: McIntosh@mc.edu


MC Law students should submit applications and required documents via the Study Abroad
TWEN portal.

Non MC Law students should submit their application materials to Ms. Darnell Paige at
dpaige@mc.edu

Space is limited, and applications should be submitted as soon as possible. Deposits must be
received by October 28, 2022. All programs require a $250 nonrefundable deposit.
DROP/ADD POLICY
Last day to add: 12/12/2022
Last day to drop with 100% tuition refund: 12/12/2022
Last day to drop with a "W" grade: 12/23/2022
Deposits are non-refundable.
Admin fees are refundable only if they have not been paid out to a 3rd party at the time of the drop.
Last day to drop with no tuition refund and get a W grade is 3 days before the program is scheduled to start.