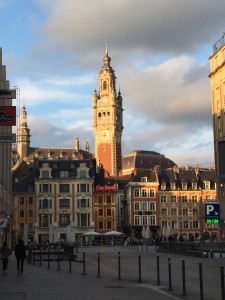 May 25 - June 5, 2020
Mississippi College School of Law is pleased to offer a two-week summer program in Lille, France. Lille is located in northern France, near Belgium, and offers a mix of old world charm and a lively cultural scene.
WHO CAN PARTICIPATE
The Lille study abroad program is open to full-time or part-time J.D. students at ABA-accredited law schools as well as LL.M. students studying at American law school. Participating students in a J.D. program must currently be in good standing and have attended law school for at least one academic year. LL.M. students must be in good academic standing.
For MC Law students, see MC Law policies regarding academic standing and eligibility to participate in summer study abroad and intersession courses.
International students studying law in an ABA-accredited law school are also welcome to participate.
Visiting students must have written approval from the dean of their home school to be eligible to participate and are advised to consult with their home school's Dean or Registrar prior to application to ensure acceptance of credit for the program. Transcript request information will be provided to visiting students upon completion of the program. Visiting students are responsible for submitting their own transcript requests following the program. Acceptance of any credit or grade for any course taken in the program is subject to determination by the home institution.
In 2019, twelve students from MC Law participated in the program.
The maximum number of participants through MC Law is 20 students, including visiting students from other ABA-approved law schools.
One 2-credit hour course will be offered in Lille.
Global Issues in Securities Law (2 credits)
This course offers an introduction to comparative securities law. It begins with a general overview of securities law in the United States and then offers some studies in global comparison. The course will pay special attention to the topic of insider trading. Recent decades have witness a proliferation of diverse insider trading enforcement regimes around the globe. This course will offer an introduction to a number of these different regimes (in the U.S., Western Europe, Japan, China, Russia, India, Australia, etc.) and consider some problems that have arisen and some lessons that can be learned from the global experience of this regulation. Students taking this course will learn:
· The historical development of Securities law in the United States and around the globe;
· The basic elements of securities regulation generally (in the U.S. and globally), and, more specifically, the basic elements of insider trading regulation (in the U.S. and globally);
· Important critiques and defenses of insider trading enforcement; and
· Global lessons in insider trading enforcement and possible paths to reform.
Students will be evaluated based on a series of three or four short papers drafted and presented in teams.
Required Books:
· Marc Steinberg, Franklin Gevurtz, and Eric Chaffee, Global Issues in Securities Law (2013)
· John P. Anderson, Insider Trading: Law, Ethics, and Reform (2018)
Here is the link to Professor Anderson's faculty page
Cancellation Policy
MC Law does not anticipate that the program will be canceled. However, in the unfortunate event that cancellation occurs, MC Law will refund all tuition and registration fees within 20 days of cancellation. We will also refund any portion of the administrative fee that has not been irrevocably committed to a third party. We will also provide assistance in finding a similar study abroad program if so desired.
If there are any changes to significant aspects of the program (classes offered, teachers, dates, etc.), after a student has signed up to the program, these will be communicated promptly, and students will be permitted to withdraw from the program and obtain a full refund of monies paid to MC Law for the program with the exception of those funds that have been irrevocably committed to a third party..
Facilities, Housing, and Meals
The program will be held in Lille Centre at the Auberge de Jeunesse HI Lille Hostel conference room.
Students must coordinate their own hotel rooms in Lille but they will receive assistance from MC Law upon request. Room rates vary considerably (79 - 129 euro) so we recommend you book early. Public transportation in Lille is very convenient but we still recommend that you book a room near Lille Centre. In prior years students have saved by sharing rooms.
Four lunches are included in the administrative fee. Students are responsible for all other meals and should budget 10 - 12 dollars per meal.
ACCESS FOR PERSONS WITH DISABILITIES
The facility for classes is wheelchair accessible. Excursions can also accommodate students with special needs as long as MC Law is notified in advance.
The following is an estimate of total student expenses for the program (excluding the May Intersession course). This includes both payments to MC Law and anticipated out-of-pocket expenses. Please note that these are only estimates and are subject to change.
MC Law tuition for 2 credit hours: $2,258
Visiting Student Tuition: $2,258
Lodging: Hotel estimates in Lille are $115 a night for a single person, single room (Total =$1,475) or $75 dollars a night per person for a double room (total = $975).
Administrative Fee: $1300
Registration fee: $75
Textbooks: $100
Food: $250
Miscellaneous/personal expenses: $300-$400
Round Trip Travel to Lille: $1200 – $1800
Trip health insurance: $100 – $200
GETTING TO AND FROM LILLE:
Lille is in close proximity to several major European cities. Most travelers arrive via train from Paris (1 hour), Brussels (40 minutes) or London (1 ½ hours). Lille is also served by an airport served by Air France and several low-cost European airlines. Charleroi Airport in Belgium is also nearby and served by low-cost airlines.
A U.S. Department of State "Consular Information Sheet" on France is available on the Department of State's Website. This is a U.S. government overview of information concerning France for U.S. travelers. Please check it periodically for updates. In the unlikely event that France is declared an "area of instability" by the U.S. government before or during the trip, or if the U.S. issues a "travel warning" for France, students will be permitted to withdraw from the program and will receive a full refund of monies paid to MC Law.
The U.S. Department of State recommends (but does not require) U.S. citizens to register trips abroad with the Department of State. MC Law will register all program participants with the Department of State prior to the program.
For students who are considering international travel and who do not have a current passport or whose passport may need to be renewed, it is important to allow a minimum of six weeks to process your passport application or passport renewal application. Demand for passport renewals and applications is currently very high so that early application is very important.
Travel and health insurance is strongly recommended for students participating in the Lille program. There are various providers with the cost, depending on the coverage purchased, ranging from approximately $100 to $200. Travel Guard (http://www.travelguard.com) is one such provider, as is iNext (www.inext.com). Your policy should, at a minimum, cover medical expenses, travel interruption/cancellation and repatriation.
Professor Richard Meyer
Phone: 601.925.714
Email: meyer@mc.edu.
Applications and required documents should be submitted to Professor Meyer.