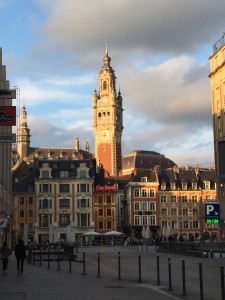 June 5 - June 16, 2023
Mississippi College School of Law is pleased to offer a two-week summer program in Lille,
France. Lille is located in northern France, near Belgium, and offers a mix of old world charm and a lively cultural scene within in a 90-minute train ride of Bruges, London, and Paris.
WHO CAN PARTICIPATE
The Lille study abroad program is open to full-time or part-time J.D. students at ABA-accredited law schools as well as LL.M. students studying at American law school. Participating students in a J.D. program must currently be in good standing and have attended law school for at least one academic year. LL.M. students must be in good academic standing.
For MC Law students, see MC Law policies regarding academic standing and eligibility to
participate in summer study abroad and intersession courses.
International students studying law in an ABA-accredited law school are also welcome to
participate.
Visiting students must have written approval from the Dean of their home school to be eligible to participate and are advised to consult with their home school's Dean or Registrar prior to application to ensure acceptance of credit for the program. Transcript request information will be provided to visiting students upon completion of the program. Visiting students are responsible for submitting their own transcript requests following the program. Acceptance of any credit or grade for any course taken in the program is subject to determination by the home institution.
Comparative Health Law (2 credits)
This course illuminates important concepts and themes in health law by considering them from competing national and international perspectives. The course begins with the question of whether there is (or ought to be) a right to access basic health care services and, if so, from where does that right derive (international law, national constitutions, domestic legislation, etc.). The course then shifts to exploring various types of health care delivery systems employed by different nations. Additional topics include comparative analysis of approaches to medical malpractice, reproductive rights, and issues of global public health concerns such as epidemics.
Students will be evaluated based on a series of short reflection papers and a longer paper due
after program ends.
This course will be taught by Professor Jonathan Will.
Cancellation Policy
MC Law does not anticipate that the program will be canceled. However, in the unfortunate
event that cancellation occurs, MC Law will refund all tuition and registration fees within 30 days of cancellation. We will also refund any portion of the administrative fee that has not been irrevocably committed to a third party.
If there are any changes to significant aspects of the program (classes offered, teachers, dates,
etc.), after a student has signed up to the program, these will be communicated promptly, and students will be permitted to withdraw from the program and obtain a full refund of monies paid to MC Law for the program with the exception of those funds that have been irrevocably committed to a third party.
ACCESS FOR PERSONS WITH DISABILITIES
The facility for classes is wheelchair accessible. Excursions can also accommodate students with special needs as long as MC Law is notified in advance.
ESTIMATED EXPENSES
The following is an estimate of student expenses for the program. This includes both payments to MC Law and anticipated out-of-pocket expenses. Please note that these are only estimates and are subject to change.
MC Law Student tuition (at student's tuition rate) for 2 credit hours
Visiting Student Tuition: $2,436
Lodging/Admin Fees: ~$2500 (includes excursions)
Miscellaneous/personal expenses: $300-$400
Round Trip Travel to Lille: $1200 – $1800
Trip health insurance: $100 – $200
GETTING TO AND FROM LILLE:
Lille is in close proximity to several major European cities. Most travelers arrive via train from Paris (1 hour), Brussels (40 minutes) or London (1 ½ hours). Lille is also served by an airport served by Air France and several low-cost European airlines. Charleroi Airport in Belgium is also nearby and served by low-cost airlines.
A U.S. Department of State "Consular Information Sheet" on France is available on the
Department of State's Website. This is a U.S. government overview of information concerning France for U.S. travelers. Please check it periodically for updates. In the unlikely event that France is declared an "area of instability" by the U.S. government before or during the trip, or if the U.S. issues a "travel warning" for France, students will be permitted to withdraw from the program and will receive a full refund of monies paid to MC Law that have not been irrevocably committed to a third party.
The U.S. Department of State recommends (but does not require) U.S. citizens to register trips abroad with the Department of State. MC Law will register all program participants with the Department of State prior to the program.
For students who are considering international travel and who do not have a current passport or whose passport may need to be renewed, it is important to allow a minimum of six weeks to process your passport application or passport renewal application. Demand for passport renewals and applications is currently very high so that early application is very important.
Travel and health insurance is strongly recommended for students participating in the Lille
program. There are various providers with the cost, depending on the coverage purchased,
ranging from approximately $100 to $200. Travel Guard (http://www.travelguard.com) is one such provider, as is iNext (www.inext.com). Your policy should, at a minimum, cover medical expenses, travel interruption/cancellation and repatriation.
Health information and recommendations regarding vaccines and medicines for travel to France can be found at https://wwwnc.cdc.gov/travel/destinations/traveler/none/france.
QUESTIONS AND APPLICATION
Please direct questions to:

Professor Jonathan Will
Phone: 601.925.7102
Email: will@mc.edu


MC Law students should submit applications and required documents via the Study Abroad
TWEN portal.

Non MC Law students should submit their application materials to Ms. Darnell Paige at
dpaige@mc.edu

Space is limited, and applications should be received by December 31, 2022. All programs
require a $250 nonrefundable deposit that is due within two weeks of acceptance into the
program.
DROP/ADD POLICY
Last day to add: 05/22/2023
Last day to drop with 100% tuition refund: 05/22/2023
Last day to drop with a "W" grade: 06/02/2023
Deposits are non-refundable.
Admin fees are refundable only if they have not been paid out to a 3rd party at the time of the drop.
Last day to drop with no tuition refund and get a W grade is 3 days before the program is scheduled to start.