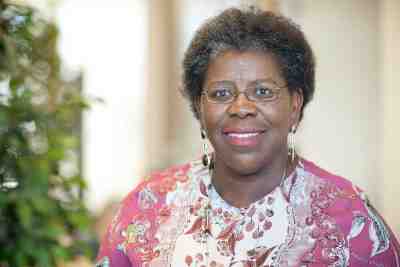 MC Law Professor Angela Mae Kupenda was recently invited to speak at the American Association of Law Schools (AALS) January 2018 Annual Meeting to be held in San Diego, California. The AALS Section on Teaching Methods session is themed: "Learning Together: Diverse Models of Collaborative Learning in Law School."
Many MC Law current students and alums have experienced the collaborative method in Professor Kupenda's courses over the years. Although collaborative learning is still considered to be relatively new as a teaching method, Professor Kupenda began to utilize collaborative learning in her courses almost 20 years ago, and developed further those techniques while visiting at Boston College Law School and Franklin Pierce Law School (now University of New Hampshire).
According to its call for papers, the AALS Section on Teaching methods sought "several speakers for an interactive panel. The focus of the session is 'Collaborative Learning'—teaching techniques that encourage students to work together towards a unified final product—rather than 'Cooperative Learning,' which focuses on attaining individual mastery through a group process. Collaborative Learning is based on the model that knowledge can be created within a population where members actively interact by sharing experiences and taking on asymmetrical roles (i.e., understanding all sides of a problem) mirrors much of what lawyers do in practice. Studies have shown that learning to work as a team develops social learning skills that are critical to success as a lawyer."
This is Professor Kupenda's second invitation to speak at this January 2018 meeting of law schools from around the country. Earlier as was announced, Professor Kupenda was also invited to speak on the Program of the Section on Women in Legal Education. That program is themed, "Whispered Conversations Amplified."
The AALS focuses on achieving excellence in legal education. Professor Kupenda has extensively presented on AALS programs and published in AALS publications, including the following:

Panel Presentation, Fearless Color Confrontations: On Losing Dr. King, Rediscovering Dr. Cress, in Considering Judge Reeves' Uncensored Ruling, for an Updated Movement, Civil Rights and Civil Movements in the 21st Century: Building Sustainable Movements for Social Change, AALS session, New York, January 2016

Paper Commentator and Reviewer, Emerging Voices in Workplace Law, AALS session, New York, January 2016
Essay, Implementing ABA Standards, AALS Section on Teaching Methods Newsletter (2016), pages 12-13
Presenter, 'Truth and Reconciliation:' A Critical Step Following Race and Gender Discrimination in Tenure Wars to Further Institutional Transformation, with co-presenter Prof. Tamara F. Lawson (St. Thomas Univ. Sch. of Law), AALS Crosscutting Program, "The More Things Change...: Exploring Solutions to Persisting Discrimination in Legal Academia," Washington, D.C., January 2015
Essay, Innovations in the Classroom, Taking a Soak in the Law,
AALS Section on Teaching Methods, Newsletter (Spring 2014)
Panel Moderator, Teaching Innovations, AALS Workshop on the Future of the Legal Profession and Legal Education: Changes in Law Practice: Implications for Legal Education, Washington, D.C., January 2012
Panel Presenter, Motherhood and the Constitution, AALS Workshop on Women Rethinking Equality, Washington, D.C., June 2011
Plenary Presenter, Converting Challenging Conversations in the Classroom into Learning Opportunities, 2008 AALS Workshop for New Law Teachers, Washington, D.C., June 2008

Small Group Leader, Teaching Specialty Courses, 2008 AALS Workshop for New Law Teachers, Washington, D.C. June 2008
Presenter, Dispelling Misconceptions (On Teaching Race in Mainstream Courses), AALS New Ideas for Law School Teachers: Teaching Intentionally, Vancouver, Canada, June 2006.
To learn more about Professor Kupenda, click here to read her biography.