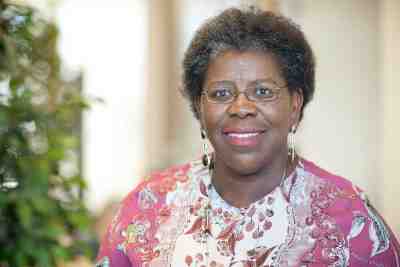 MC Law Professor Angela Mae Kupenda recently published an essay about innovative approaches to law teaching in The Law Teacher. Kupenda' essay is titled, "Doing the Hokey Pokey: Essay and Rubric Drafting as a Key to Student Success," and appears in Volume XXIII, no. 2, of the Spring 2017 issue of The Law Teacher, at pages 4-6. The Law Teacher is published by the Institute for Law Teaching and Learning and "provides a forum for ideas to improve teaching and learning in law schools."
Professor Kupenda's article can be read here.
A Business School and Law School Professor for over 25 years total at 6 different schools, Professor Kupenda utilizes innovative approaches to student learning, including collaborative exercises. She has also presented and published extensively about the lessons she has learned about teaching and student learning.
Her publications on teaching include:
Equality Lost in Time and Space: Examining the Race/Class Quandary through the lens of a course, a film, a book, a case and an unfinished movement,____ Seattle Journal for Social Justice ____ (forthcoming 2017)
What do diverse college academics do? Maybe make quilts…, Guest Blog, Academe Blog (American Association of University Professors), January 5, 2017
Essay on Implementing ABA Standards, American Association of Law Schools Section on Teaching Methods Newsletter (2016), pages 12-13
On the Receiving End of Influence: Helping craft the scholarship of my students and how their work influences me, in JOTWELL Online Journal, Proceedings of the 4th Anniversary Conference, Legal Scholarship we like and why it Matters, University of Miami School of Law (2014)
Innovations in the Classroom, Taking a Soak in the Law (short essay), in the American Association of Law Schools (AALS) Section on Teaching Methods, Newsletter, Spring 2014
Negotiating Social Mobility and Critical Citizenship: Institutions at a Crossroads, co-authored with Dr. Michelle D. Deardorff, 22 University of Florida Journal of Law and Public Policy 335 (2011)
Risking Collaborative Learning (essay), and Why I Teach (essay), in book, Gerry Hess, Steven Friedland, Sophie Sparrow and Michael Hunter Schwartz, Techniques for Teaching Law II (Carolina Academic Press 2011)
Why Punished for Speaking President Obama's Name within the Schoolhouse Gates? And can educators constitutionally truth-en marketplace of ideas about Blacks? with co-author MC Law Assistant Dean Tiffany R. Paige, 35 Thurgood Marshall Law Review 57 (2009)
Book Review, Your Blues Ain't Like Mine, by Bebe Moore Campbell (using literature to teach politics), in the Law and Politics Book Review (an electronic periodical published by The Law and Courts Section, The American Political Science Association) (Vol. 18 no. 4, April 2008) 303-05
On Teaching Constitutional Law When my Race is in their Face (Essay), 21 Law & Inequality Journal 215 (2003) (University of Minnesota)
Making Traditional Courses more Inclusive: Confessions of an African American female professor who attempted to crash all the barriers at once, 31 University of San Francisco Law Review 975 (Summer 1997)
To learn more about Professor Kupenda, click here to read her biography.