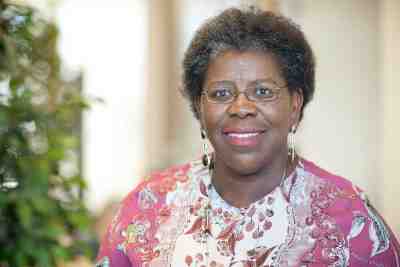 MC Law Professor Angela Mae Kupenda recently posted an essay examining the professorial role of "service" in legal academia. Her essay is titled, "What do diverse college academics do? Maybe make quilts…"
Writing about her "Wall of Fame" in her office, Kupenda discusses how celebrating the successes of others in this way is now likened to the making of a quilt. She states, "The Wall of Fame has grown, and I now see how it resembles a quilt: a quilt to warm when academia and educational institutions and our society more broadly are cold places; a quilt to comfort when one is engaged in what seems to be an unrelenting struggle; a quilt of memories to forge resilience in the face of challenges; a quilt created from seemingly random pieces woven together that tell a beautiful story about learning, service, mentoring, resilience, commitment, struggle, equality—overcoming one day, and never giving up on today or tomorrow."
Kupenda's essay, with pictures, is available at www.academeblog.org. Academe Blog, and a related magazine, focuses on issues in higher education, and is published by the American Association of University Professors (AAUP).
Professor Kupenda extends grateful appreciation to the many amazing mentees, students, friends and family who appear on the "Wall of Fame" in her office and who allowed her to share in their successes. She also especially appreciates the inspiration and collective efforts of MC Law Faculty Assistant Patricia Anderson, Assistant Dean of Diversity and Recruitment Initiatives Tiffany Paige, and Director of Communications and Public Relations Bethany Cole.