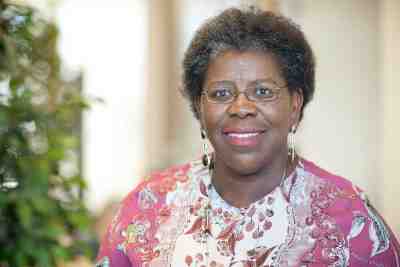 MC Law Professor Angela Mae Kupenda was recently invited to speak at the American Association of Law Schools (AALS) January 2018 Annual Meeting to be held in San Diego, California.
Professor Kupenda will speak on the Program of the Section on Women in Legal Education. The program is themed, "Whispered Conversations Amplified."
The AALS focuses on achieving excellence in legal education.
Professor Kupenda has extensively presented on AALS programs and published in AALS publications, including the following:

Panel Presentation, Fearless Color Confrontations: On Losing Dr. King, Rediscovering Dr. Cress, in Considering Judge Reeves' Uncensored Ruling, for an Updated Movement, Civil Rights and Civil Movements in the 21st Century: Building Sustainable Movements for Social Change, AALS session, New York, January 2016

Paper Commentator and Reviewer, Emerging Voices in Workplace Law, AALS session, New York, January 2016
Essay, Implementing ABA Standards, AALS Section on Teaching Methods Newsletter (2016), pages 12-13
Presenter, 'Truth and Reconciliation:' A Critical Step Following Race and Gender Discrimination in Tenure Wars to Further Institutional Transformation, with co-presenter Prof. Tamara F. Lawson (St. Thomas Univ. Sch. of Law), AALS Crosscutting Program, "The More Things Change...: Exploring Solutions to Persisting Discrimination in Legal Academia," Washington, D.C., January 2015
Essay, Innovations in the Classroom, Taking a Soak in the Law,
AALS Section on Teaching Methods, Newsletter (Spring 2014)
Panel Moderator, Teaching Innovations, AALS Workshop on the Future of the Legal Profession and Legal Education: Changes in Law Practice: Implications for Legal Education, Washington, D.C., January 2012
Panel Presenter, Motherhood and the Constitution, AALS Workshop on Women Rethinking Equality, Washington, D.C., June 2011
Plenary Presenter, Converting Challenging Conversations in the Classroom into Learning Opportunities, 2008 AALS Workshop for New Law Teachers, Washington, D.C., June 2008

Small Group Leader,Teaching Specialty Courses, 2008 AALS Workshop for New Law Teachers, Washington, D.C. June 2008
Presenter, Dispelling Misconceptions (On Teaching Race in Mainstream Courses), AALS New Ideas for Law School Teachers: Teaching Intentionally, Vancouver, Canada, June 2006.