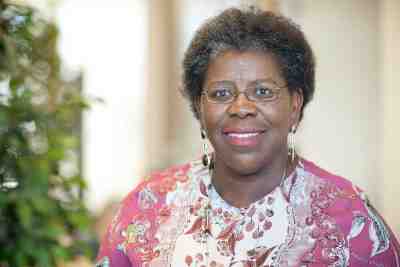 Professor Angela Mae Kupenda was an invited lecturer April 2-3, 2018, at the University of Denver Sturm College of Law. Kupenda was an honored guest of the Mulligan Burleson Chair in Modern Learning, held by Professor Roberto Corrada, and the University of Denver Law School's Modern Learning Committee. The Modern Learning Committee invites lecturers each year to engage the faculty and administration on teaching and learning. This year they brought in nationally known scholars to address the topic of race in both scholarship and teaching. Professor Kupenda was invited in as one of these scholars. Her lecture was also co-sponsored by the Dean for Inclusiveness.
Professor Kupenda's lecture was titled, "As easy as '1,2, buckle my shoe,' 10 Steps for Addressing Race Intentionally and Facilitating Unplanned Racial Discussions in Doctrinal Classes." Kupenda's lecture and suggestions for addressing the racial issues that are present in every doctrinal course were based on her teaching and her writings over the past 20 plus years. Her CV attests to her extensive publications and presentations on teaching and race, and other subjects.

To learn more about Professor Kupenda, you can access her CV and read her biography. Or, to read some of her publications, click here. ​