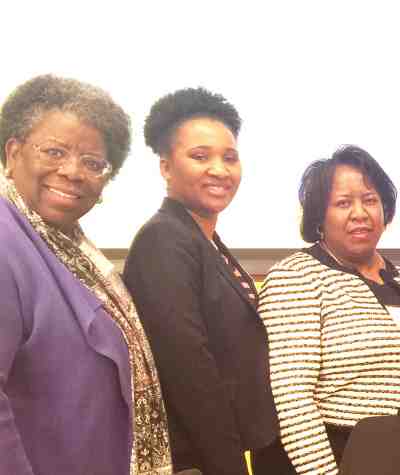 MC Law Professor Angela Mae Kupenda, a frequent collaborator with Jackson State University faculty, collaborates with NSF JSU ADVANCE Team for publication forthcoming in Thurgood Marshall Law Review. The forthcoming article is: Loretta A. Moore, Deidre L. Wheaton, Angela Mae Kupenda, Michelle D. Deardorff and Evelyn J. Leggette, Transforming Climates for the Woman of Color: Strategic Engagement with Families and Social Networks of the Married/Partnered Academic Woman of Color, 42 (1) Thurgood Marshall Law Review ___ (forthcoming 2016 or 2017).
Kupenda co-authored with the NSF JSU ADVANCE Team, including the Principal Investigator Dr. Loretta A. Moore (JSU Vice President of Research and Federal Relations), to examine a cutting-edge issue for academic women of color, and women of color more broadly.
Their forthcoming article examines how familial and social structures influence career advancement, work-life balance, and ultimately institutional transformation for the academic woman of color, especially in male-dominated disciplines. While women generally have been focused on to a great degree, women of color have received lesser attention. Secondly, while women of color have received some attention, most of this focus has been on those academic women of color who work in predominantly white institutions. This is quite unfortunate, as most academic women of color work at Historically Black Colleges and Universities (HBCUs).
Through research funded by a National Science Foundation (NSF) five-year ADVANCE Institutional Transformation (IT) grant (JSU ADVANCE), it was found that the married/partnered academic woman of color at HBCUs often faces familial and social structure climates complicated by gender, racial, and cultural norms where those individuals that the academic woman hopes to support her are often unfamiliar with her workplace demands.
Their findings suggest a promising opportunity to use the JSU ADVANCE workshop as a model for advancing the careers of the married/partnered academic woman of color by actively engaging spouses/partners, families and social structures in institutional transformation at HBCUs and other institutions. More broadly, their work suggests the important role of considering racial, cultural, familial and social structures in institutional transformation.