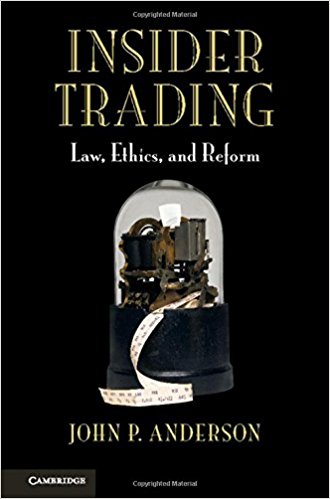 Professor John Anderson recently released his book, "Insider Trading: Law, Ethics, and Reform." The book, published by Cambridge University Press, summarizes the current state of insider trading law in the US and around the globe. After engaging in a thorough analysis of the practice of insider trading from the normative standpoints of economic efficiency, moral right and wrong, and virtue theory, Anderson offers concrete proposals for much-needed reform.
Donald C. Langevoort, Thomas Aquinas Reynolds Professor of Law at Georgetown University, says the book explains the mystery of insider trading, noting, "The reader comes away not only knowing so much more about why this subject is such a challenge, but also how we might actually move forward to a more measured, coherent form of regulation."
The book, which is broken down into the three sections of law, ethics, and reform, begins with a discussion of the early development of insider trading and concludes with an outline for reform. To learn more about the book or to purchase your copy, click here.
To learn more about Professor John Anderson, you can read his biography.