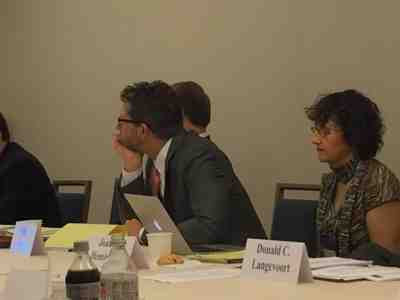 Professor Anderson (MC Law) and Professor Joan Heminway (University of Tennessee School of Law) co-moderated the AALS discussion group, "Salman v. United States and the Future of Insider Trading Law." The discussion group gathered many of the nation's top legal experts in the area insider trading law, including professors from the University of Pennsylvania, Emory, Georgetown, Hastings, Wake Forest, Indiana, Toledo, Brooklyn, Northern Illinois, and the University of Pacific.
In Salman v. United States, the United States Supreme Court took up the problem of insider trading for the first time in 20 years. In 2015, a circuit split arose over the question of whether a gratuitous tip to a friend or family member would satisfy the personal benefit test for insider trading. Professor Anderson's article, Greed, Envy, and the Criminalization of Insider Trading, 2014 Utah L. Rev. 1 (2014) was cited by the Petitioner's Brief before the Supreme Court.
The discussion group focused on the Supreme Court's decision in Salman and its implications for the future of insider trading.
In addition to co-moderating, Professor Anderson presented his paper, "Poetic Expansions of Insider Trading Liability after Salman." Professor Heminway's blog post summarizing the discussion can be found here.