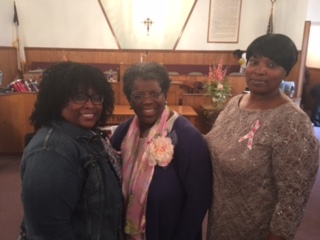 Professor Angela Mae Kupenda was the Women's Day Speaker on Sunday, October 22, 2017, at Pilgrim Branch Missionary Baptist Church in Brandon, Mississippi. Her remarks were themed, "My Dear Sisters: If You Know Your Maker, Then You will Know Your Shaker."
While faculty are expected to teach and produce legal scholarship, faculty are also expected to be of service to the law school and the broader community. Professor Kupenda is very active in her church: from tutoring, to delivering encouraging speeches, to mentoring, and to advising.
Professor Kupenda's speech was enjoyed and supported by an enthusiastic congregation, along with guests MC Law Assistant Dean Tiffany Paige and Paige's sister (pictured in photo, above).
To learn more about Professor Kupenda, visit her faculty biography.
For a selection of her publications, click here.