1. Open your web browser (IE, Firefox, Chrome, Safari, etc.) and go to http://papercut.mc.edu. Log in using your username and password. Do not put the '@mc.edu' after your username.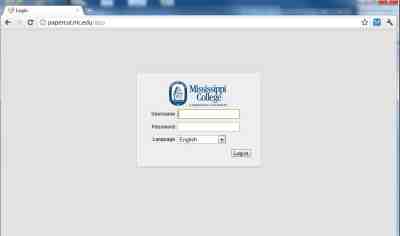 2. Once you are logged in, you will see your main login page. This displays your balance as well as other things. Click on the "WEB PRINT" link on the left menu.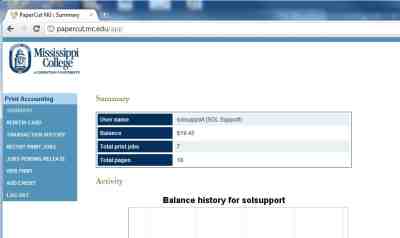 3. From the Web Print page, click the "Submit a Job" link.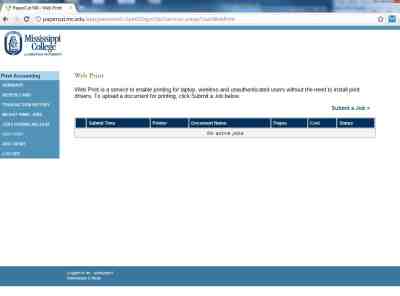 4. Next, you must select the correct printer.
Available Wireless Printers
/addc3/l-wireless-1 – Located in the Law Library Copy room. Has duplexer and stapler.
/addc3/l-wireless-1D – The same physical printer but the queue is configured to duplex jobs (print on both sides)
/addc3/l-lab-1 – Located in the Computer Lab. No duplexing or stapling.
/addc3/l-lab-1d - Located in the Computer Lab. This is the same printer as the one above, but is configured for duplex (2-sided) printing.
/addc3/l-lab-c – Located in the Computer Lab. This is a color printer and the charges are higher for its use. Be sure to review the charges below.
Printing Charges
Non-Color Printer
Black and White Single-sided printing : $.05 per page
Black and White Duplex printing: $.04 per page (2 pages per sheet)
Color Printer
Black and White Pages: $.10 per page
Color Pages: $.25 per page
5. Click the "Print Options and account selection" button at the bottom right.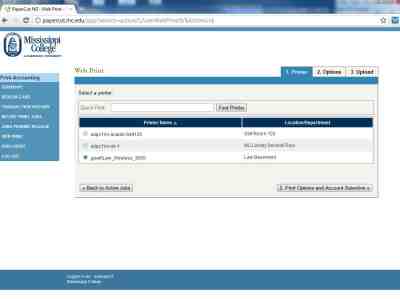 6. On this next page, select the number of copies that you wish to print, and click the "Upload Document" button.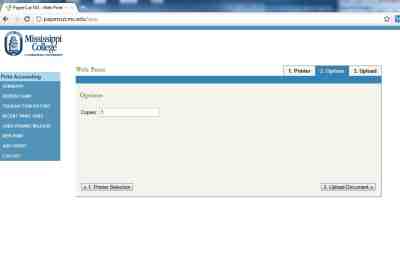 7. Select the document you wish to upload. The document type can be any of the types listed below. Most common types will be Word, PDF, Powerpoint, and Excel. Once you have selected your document, click the 'Upload & Complete Button' to submit your job.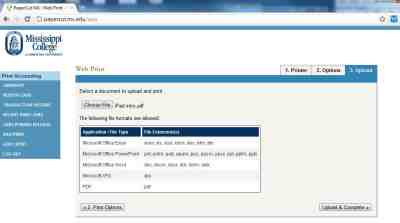 The final page shows you the status of your print job. You should now go pick up your print job in the Library Copy Room.