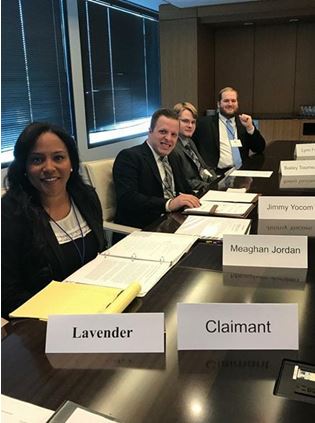 MC Law Competes in National Arbitration Competition
Recently MC Law Regional Champions and Finalists competed in the National ABA Law Student Division Arbitration Competition in Chicago, Illinois. MC Law students prepared and presented an arbitration case, including opening statements, witness examinations, exhibit introductions, evidentiary presentations, and summations.
Regional Champions that participated in the competition were: Meaghan Jordan, Jimmy Yocom, Blake Harthcock, and Winston Franklin. Regional Finalists included: Brittney Pinon, Samuel Goff, Brittany Brown, and Amber Stewart. The Board extends a special thank you to the arbitration coaches who helped prepare the MC Law team. Coaches included: Amanda Hill Fritz '14 of Chhabra & Gibbs; Kasey Mitchell Adams '15 of Butler Snow; Caylan Dunnells '16 of Robertson + Easterling; and Jessica Pulliam '17 of the Mississippi Bureau of Narcotics.
Excellence in the Community
MC Law Students Admitted Into Limited Law Practice.
MC Law students were admitted into Mississippi Limited Law Practice pursuant to the provisions of the Mississippi Law Student Limited Practice Act on January 23, 2018 at the Hinds County Chancery Court.
These students are participants in various MC Law clinics. Working in one of the clinics allows a student to experience work with real clients, attorneys, and judges. Law students gain legal work experience while helping the community. Congratulations to all the student advocates admitted into limited law practice.
A Competition that Determines the "Best of the Best" Moot Court Programs
MC Law Moot Court Board was well represented at the 2018 invitation-only Andrews Kurth Competition held in Houston, Texas. The team consisted of 3Ls Patrick Fields and Lindsay Roberts and 2L Hannah Gaddy.
MC Law Students Continue to Achieve
Congratulations to 3L's Carpenter Marsalis and Ray Young for finishing as regional finalists in this year's National Trial Competition (NTC). This year the NTC was held in Tuscaloosa, AL from February 2nd to the 4th. The NTC is one the most prestigious mock trial competitions in the nation.