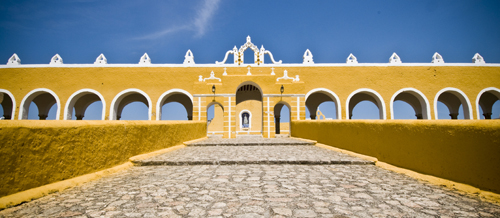 December 26, 2017 – January 9, 2018
ABOUT THE PROGRAM
Mississippi College School of Law will host the popular Merida program during winter intersession this year. The program is approximately two weeks long and students will earn three credit hours in international human rights. Students will live and learn at the Hotel del Peregrino, a small boutique hotel located in the center of Merida. Merida is the capital city of the Yucatan and an excellent base to explore the Mexican culture through ruin sites and ecological wonders.
The classroom study will be enhanced through visits to local legal institutions and cultural excursions. Anticipated visits include the Judicial Tribunal Center, the United States Consulate, Chichen Itza, Uxmal, and a hacienda tour.
WHO CAN PARTICIPATE
The program is open to full-time and part-time J.D. and LL.M students at ABA-accredited law schools. Participating students must currently be in good standing and have attended law school for at least one year. Therefore, the program is only available to current second- and third-year students J.D. students or LL.M. students.
For MC Law students, see MC Law policies regarding academic standing and eligibility to participate in intersession courses.
Maximum enrollment: 16.
In 2016, 15 students participated including students from MC Law, Seattle University, Arizona State University and the University of Montana.
Upon successful completion of the program, students will earn 3 credit hours.
The course offered during the program is Themes in Comparative Constitutional Law, which will be taught by Professor Richard Meyer, who is also serving as Program Director. Generally, class will meet during the mornings of December 27 – 31, and January 2 – 9. Class will also include visits to local legal institutions. Class meeting times may be adjusted to accommodate travel throughout the region.
All standard MC Law rules for class attendance, participation, and grading will apply to this course. Please refer to the MC Law 2017-2018 Academic Year Catalog for details. Grades will be letter grades and determined by final papers and class participation.
Rules for attendance may be found here.
Further information on MC Law grading may be found here.
Visiting students should note that acceptance of any credit for the course is subject to determination by your home law school.
Course description for Themes in Comparative Constitutional Law, (3 sem. cred. hrs.):
This course illuminates important concepts and themes in constitutional law by considering them from competing national and international perspectives. The course begins with a general introduction to the concepts of constitutionalism, rights, duties and rule of law. The course then addresses the different roles constitutions play in different states. The course will then shift to focus on a specific theme in comparative constitutional law such as Religious, Racial, and Ethnic Pluralism; Separation of Powers; Social Welfare Rights; or Freedom of Expression. The specific theme may differ from semester to semester. Students may be required to write and present a paper. When this course is offered for two credit hours and a paper is required, students who wish to use the paper toward satisfaction of the writing requirement may do so.? When this course is offered for three credit hours and a paper is required, the paper will satisfy the writing requirement. (Please note that this will be an exam course as offered in Merida.)
Professor Meyer's biographical information may be found here.
MC Law does not anticipate that the program will be canceled. However, in the unfortunate event that cancellation occurs, MC Law will refund all monies paid within 20 days of cancellation, and assistance will be provided in finding a similar study abroad program if so desired.
If there are any changes to significant aspects of the program (classes offered, teachers, dates, etc.), these will be communicated promptly, and students will be permitted to withdraw from the program and obtain a full refund of monies paid to MC Law for the program.
Program participants will have the exclusive use of the entire facilities of the Hotel del Peregrino in Merida. Students will share a room with a participant of the same sex, or there may be a possibility of having a single room for an additional fee (will depend upon enrollment numbers). Classes will also take place at Hotel del Peregrino. The facilities include tables and chairs, air conditioning, audio-visual equipment as needed, and wireless high-speed internet access. The hotel also has common areas available for use on site, including an outdoor lounge, outdoor patio, and terrace. Breakfast will be served daily at the hotel and the cost is included in the administrative fee for the program. Students are responsible for lunch and dinner daily. There are many restaurants within walking distance of the hotel, and food can be purchased for very moderate prices. Most students budget $15-$25 per day for food.
Access for Persons with Disabilities
Merida is a developed modern city and is generally accessible to individuals with disabilities. MC Law will ensure that students with disabilities of any kind who participate in the program are provided with special accommodations to the extent possible. However, students requiring special accommodations should contact the program coordinator prior to applying.
The following is an estimate of total student expenses for the program. This includes both payments to MC Law and anticipated out-of-pocket expenses. These are only estimates and are subject to change.
MC Law Tuition for 3 credit hours: $3387.
MC Law Administrative Fees: $1275 to include housing; daily breakfast; trips to Chichen Itza, Uxmal, and a hacienda tour; administrative fees charged to the law school; and administrative support.
Additional Fees to Consider:
Registration Fee: $75
Textbooks: $0
Food: $250-$500
Round Trip Travel to Merida: $250-$850
Spending Money: $250-$300
Trip and Health Insurance, $100-200 (Highly recommended)
Students are responsible for arranging and paying for their own travel to and from Merida. Travel information should be provided to program administrators prior to departure.
The hotel will be open for student arrivals on December 26, 2017. Students must check out of the hotel by January 9, 2017. Classes will take place from December 27, 2017, through January 9, 2018. All classes will be complete by noon on January 8th, so return flights can begin the late afternoon of January 8th.
Students are advised to arrange flights to the Merida airport. In the past, many students have flown into Merida and flown out of Cancun. Cancun/Playa del Carmen is approximately 4 hours, by bus, from Merida. Students wishing to travel to Cancun/Playa del Carmen upon the conclusion of the Program should easily be able to arrange flights out of Cancun.
TRAVEL ADVISORIES AND ZIKA INFORMATION
A U.S. Department of State "Consular Information Sheet:" on Mexico is available on the Department of State's Website. This is a U.S. government summary overview of information concerning Mexico for U.S. travelers. Please check it periodically for updates.
The Yucatan generally, and Merida particularly, is a safe and stable environment for U.S. travelers, and MC Law does not expect that the area around Merida will be declared an area of instability or that such a travel advisory will be issued. There is no current advisory for the Yucatan.
PLEASE NOTE THAT THE ZIKA VIRUS IS PRESENT IN MEXICO, INCLUDING THE YUCATAN. You should consult the following information carefully prior to your departure regarding the prevention of infection for yourself and how to prevent infection to others. You should carefully follow the recommendations regarding prevention of infection to yourself and others, both while in Mexico and upon your return. WOMEN WHO ARE PREGNANT OR WHO MAY BE PREGNANT SHOULD NOT PARTICIPATE IN THIS PROGRAM.
Information regarding the Zika virus in Mexico, including information about protection from mosquito bites, transmission, etc., can be found at the Center for Disease Control website.
Additional information from the Mississippi State Department of Health can be found here.
Information about Permethrin-treated clothing.
Professor Richard Meyer
Phone: 601-925-7141
Email: meyer@mc.edu
Application Deadline: Friday, October 27, 2017.
Applications and required documents should be submitted to:
Ms. Brenda Guy
Mississippi College School of Law,
151 E. Griffith Street, Jackson, MS 39157
Email: bguy@mc.edu
Phone: 601-925-7140
Fax: 601-925-7113